Okay, I don't know where to begin since I've watched this movie for the umpteenth time already– so many times that I can't barely take count. Just the mention of the movie title Mean Girls sends shivers to my spine (In a good way though) like it has been consistently on the top of my favorite movie list! Phew! Does it look obvious now that this is so precious to me? Well anyway, to set the record straight, I wasn't able to watch the movie on its first day of release or should I say showing coz I had no idea and definitely penniless coz I wasn't keen of asking money from my parents to watch movies before. The movie was released year 2004, I don't know how old I was that time. PLEASE DON'T FORCE ME TO DO MATH, I HATE THAT. It all started when I was in highschool roughly 3 years ago after the movie was released– we were labeled as MEAN GIRLS and I don't know why it has been used to describe me and my friends (up to this day). We weren't and aren't mean, perhaps because we didn't mingle with others before coz we were too comfortable to just be around with each other, unbeknownst to us that we were shoving others away. One of my classmates told me, "You're like the Regina George in your group." and I was like, "Who the * is Regina George?  So the next day, he handed me this original dvd copy of Mean Girls, I was definitely thrilled when I saw the dvd cover and still thrilled coz I still haven't given it back. Haha! To cut the story short, Mean Girls is my all time favorite that I memorized some (all!) of the lines. Here are some FETCH lines that sustain my Mean Girls' fan-girl heart:
Gretchen Wieners
This scene was when they were told to stand in an elevated platform to apologize to each and every girl they had victimized but, Gretchen does what she does! In the end, it was still all about her.
Despite the fact that Gretchen said the meaning of the word FETCH  by saying "Oh, it's like a slang from, England" none of us really knows what it truly meant and it irritated Regina– like totally!
Gretchen made a point on this one, like what kind of a friend are you if pick your friend's trash? Oops harsh word. Shout out to all the girls, Gretchen rule of feminism to live by.
The Plastics had one golden rule, IF YOU DO NOT FOLLOW THE DRESS CODE:
(not just the dress dear girls, the hairstyle, accessories and color of your dress– a real peer pressure I know)
Wonder why Gretchen is so wealthy? Let her explain why..
and here is Damian's thoughts about Grecthen to wrap up my Favorite Lines of Gretchen Wieners section:
Karen Smith
Okay, this is like everyone's favorite line from Karen when she asked Cady that question. Yep, the girl had no idea about migration.
Nah, scratch the first part above– this is everyone's favorite line from Karen that makes all the cliques wear errthing pink on Wednesdays!
I know, I know.. Gretchen was too dumb to ask Karen, "What are you?" when apparently she does look like a mouse here. *winks*
How adorable this girl could get? Yep, that's her only talent.
Because beauty pageants have a winner and a first runner– this rule applies to Karen. Oh goodness!
Regina George (favorite!!)
What a way to shoo someone away! Jason had a taste of Regina's venomous mouth.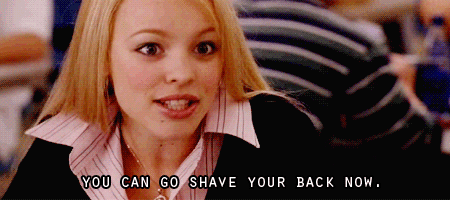 No idea Regina but let's Google it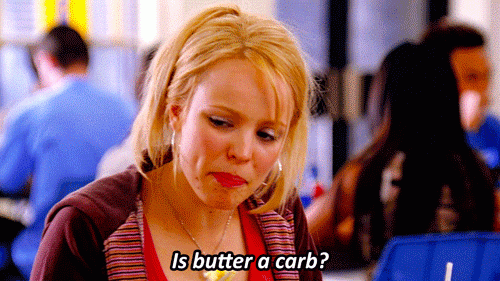 When she was told "You're like really skinny" Nahh. The Queen Bee doesn't buy that anymore.
When someone says this to me, I don't really believe coz here, when Cady replied "Thank you" to Regina after hearing the praise, the queen said "So you agree? You think you're really pretty". I don't want the same thing to happen to me.
Ahuh. You cannot lie to Regina, she can always tell when you're faking it and you definitely deserve this:
For your curiosity, here's the actual scene (poor Karen) :
—
Have I mentioned the word "favorite" many times already? My apology, it's just that by the mention of the movie Mean Girls, it's that word that pops up inside my mind. Believe me when I say the ones above aren't even half of my favorite lines from the movie. So you, Cady fans (perhaps Damian and Janice's fans out there, I'll be doing the Part2, watch out for it!) I hope you enjoyed rolling your eyes  but still lovin' it seeing The Plastics once again in your screens. Thank you!